Peak Season:
10 Dec - 15 Jan
High Season:
16 Jan - 30 Apr
01 Jul - 30 Sep
01 Dec - 09 Dec
Low Season:
01 May - 30 Jun
01 Jan - 30 Nov
A new addition to Mai Pen Rai are the sea view bungalows at the end of the beach. These are seconds from the beach, and are a perfect solution for long term friends of Than Sadet who wish to stay on or close to the beach for a reasonable price.
These bungalows have fan and cold water bathroom. They are nestled just at the end of the beach at the bottom of the hill, a slight escape from the boat trips and direct action of beach, but still plenty of space for children to play safely and parents to relax and see their children.
These bungalows are also ideal for single travellers wishing to be close to the beach at an affordable price.

Room rates start at: 998.00Thai Baht
Full Moon Party Rates run for five days, 2 days prior and 2 days after the Full Moon Party!
Book This Seaview Bungalow
Due to the remote situation of Than Sadet and the factor that it is in National Park territory, government electricity has not reached Than Sadet. This in fact adds to the charm of the place. Power is run by generator and is switched on from 11.00 am until 4.00 pm, and then again 6.00 pm until midnight. All rooms have fan, and the fan will run during electricity times.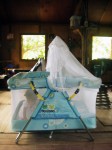 If you are coming with a young baby or toddler we also offer a large baby cot / play pen with mosquito net, if you would like this in your room, please let us know. The baby cot is 100 THB / per day and only available for the Bungalows On The Beach.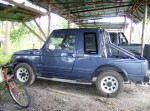 If you are interested in renting a jeep during your stay at MaiPenRai Bunglows then please let us know. Price for jeep rental is 1.000 THB per day.
People who have been to Mai Pen Rai Bungalows often know the particular number of the bungalow that they want, if you have any preference, please tell us, but note that during busy times such as Peak season and Full moon, we cannot guarantee a particular number, but will do our best.