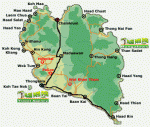 There are a varieties of ways to finally reach Mai Pen Rai Bungalows at Thansadet beach on Koh Phangan Island
Bangkok – Koh Samui – Koh Phangan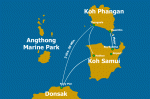 The most direct way is to fly from Bangkok to Koh Samui and then:
Take a taxi/mini bus to Big Buddha pier and finally join the boat to Haad Rin Beach Koh Phangan. The boat leaves 3 times daily at 10.30 a.m., 1.00 p.m. and 4.00 p.m.
Take a taxi/mini bus to Nathon pier and join the express boat to Thongsala, Koh Phangan. The Express boat leaves 2 times daily at 11.00 a.m. and 4.00 p.m
Bangkok – Suratthani – Koh Phangan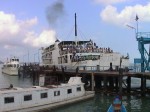 Take train, bus or fly from Bangkok to Surat Thani. Then join the bus to Donsak pier and take the Ferry boat to Thongsala, Koh Phangan. The Ferry leaves 3 times daily at 10.00 a.m., 2.00 p.m. and 6.00 p.m.
Koh Samui – Haad Rin – Thansadet – by Boat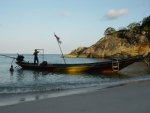 Every day a long tail taxi boat departs at 9.30 to Haad Rin beach and to Koh Samui island. One can return the same day from Koh Samui Island at 12.00 or Haad Rin beach at 12.30.
Thongsala – Thansadet – by Taxi
Taxi car departs from Thong Sala pier daily at 1.00. Contact Mister Wat at Orion Office on the sea front two doors past Niras Bakery on the left. The road to Than Sadet passes through dense jungle and a steep mountain pass, however the road now has been paved the whole way to Than Sadet, making the journey much more comfortable and smooth.
Taxi fare – 200 Baht one way. If you arrive after the 1.00 taxi time, please phone on +66 (0)93 9598073, and we can organize private pick up transfer for you, at the cost of 800 Baht for the car. Please note that this price is for 1 – 4 people, and for more than 4 people, the price is charged as normal to 200 baht per person. For children, please ask directly to the driver.
Koh Samui – Thansadet – by Express Boat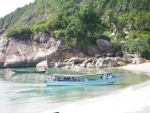 Daily from Koh Samui Maenam beach at 12.00, catch the Thong Naipan Express Boat , fare to Than Sadet is 350 Baht per person, and is the easiest way to arrive in Thansadet. This will take you directly to Than Sadet, stopping at Had Rin, Had Tien, Than Sadet, and finally Thong Naipan Beach.
Please leave good time to get to Maenam, as often the Songtaew taxi drivers will take you to another pier, which puts you onto the Lomprayah boat to Had Rin, for which the taxi driver gets a commission! You need to emphasise that you need the Thong Naipan Express Boat; coming from Nathon, once in Maenam village, the pier is situated down the soi to the left, which is opposite the soi on the right that goes up to Wat PukaoTong (temple).
If you are coming from airport direction, there is only one traffic light in Maenam, and just at it, you turn down to the right, where the Walking street once weekly is held. Go right to the end, and the boat leaves from in front of the Sala! If you have any problems, please phone us on +66 (0)93 9598073.